Swichgage Series
These 2-inch and 2-1/2 inch temperature gauges feature built-in electrical switches for activating alarms and/or shutting down equipment.
Combination indicating gauge and limit switch
Critical/high temperature limit switch is visible and adjustable (most models)
Contact grounds through case
FW Murphy Production Controls offers support for all our products. If you are unable to find the product that you need, please call us at 918-957-1000.
Overview
Specifications
Diagrams
Literature
The 20 Series (2 in./51 mm dial) and the 25 Series (2-1/2 in./64 mm dial) Swichgage models are diaphragm-actuated, temperature-indicating gauges with built-in electrical switches for tripping alarms and/or shut-down devices.
Ranges are available from 32°-120° F (0°-45° C) through 300°-440° F (160°-220° C).
The gauge mechanism is enclosed in a steel case coated to resist corrosion. A polycarbonate, break-resistant lens and a polished, stainless steel bezel help protect this instrument.
These vapor-actuated gauges feature a sealed capillary tube and a sensing bulb. When subjected to heat, the liquid in the sensing bulb changes to vapor creating pressure against the diaphragm mechanism. The diaphragm translates this vapor pressure into a mechanical gauge reading.
For series 20T and 25T, the gauge pointer acts as a temperature indicator and as one switch pole which completes a circuit when it touches the adjustable limit contact. Contact(s) are grounded through the case. They have a self-cleaning motion to enhance electrical continuity.
These instruments are used on equipment in the oil field monitoring engine coolant, crankcase oil and transmission oil.
Base Models, Coolant or Oil Temperature
20T and 25T Series Swichgage: For these models, the gauge pointer makes with an adjustable contact to complete a pilot-duty circuit.
Dial: White on black; U.S.A. standard scale is dual scale °F/°C
Case: Plated steel; mounting clamp included (except direct mount models)
Bezel: Polished stainless steel, standard
Pointer: Tempered nickel silver
Lens: Polycarbonate, high-impact
Sensing Element: Beryllium copper diaphragm
Capillary: PVC armored copper; 4 ft. (1.2 m). Stainless steel armor optional
Sensing Bulb: Copper
Gage Accuracy: See Temperature Accuracy Chart
Maximum Temperature: See Temperature Ranges and Factory Settings Table
Maximum Ambient Temperature: -40° F (-40° C) through 150° F (66° C)
Adjustable Limit Contact (20T and 25T):

SPST contact; pilot duty only, 2 A @ 30 VAC/ VDC
Ground path through encasement
Normally Closed (NC) when the high limit is met; Normally Open (NO) when pointer is in normal operating range
Contacts are gold flashed silver

Limit Contact Adjustment: By a 1/16 in. hex wrench through 100% of the scale
Limit Contact Wire Leads: 18 AWG (1.0 mm) 2 x 12 in. (305 mm)
Snap-Switch Wire Leads: 20 AWG (0.75 mm2) x 12 in. (305 mm)
Unit Weight:

20 Series: 12.7 oz. (0.39 kg)
25 Series Models: 13.8 oz. (0.43 kg)

Unit Dimensions:

20 Series: 4-3/4 x 4-3/4 x 2-3/4 in. (121 x 121 x 70 mm)
25 Series Models: 4-3/4 x 4-3/4 x 3 in. (121 x 121 x 76 mm)
Dimensions 20T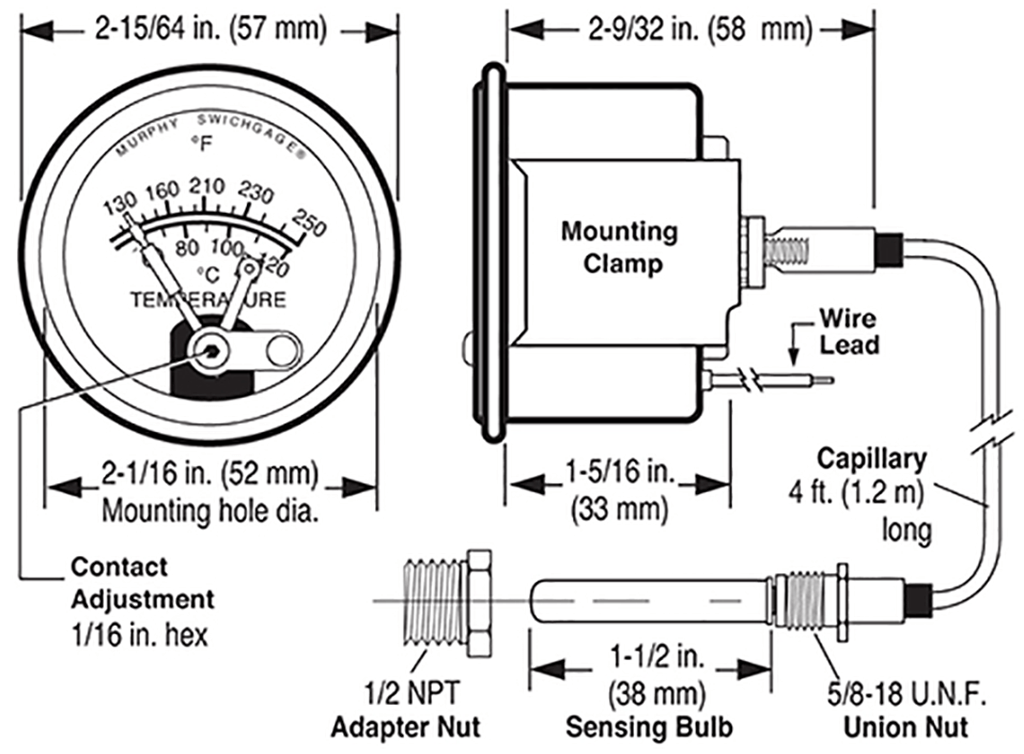 Dimensions 25T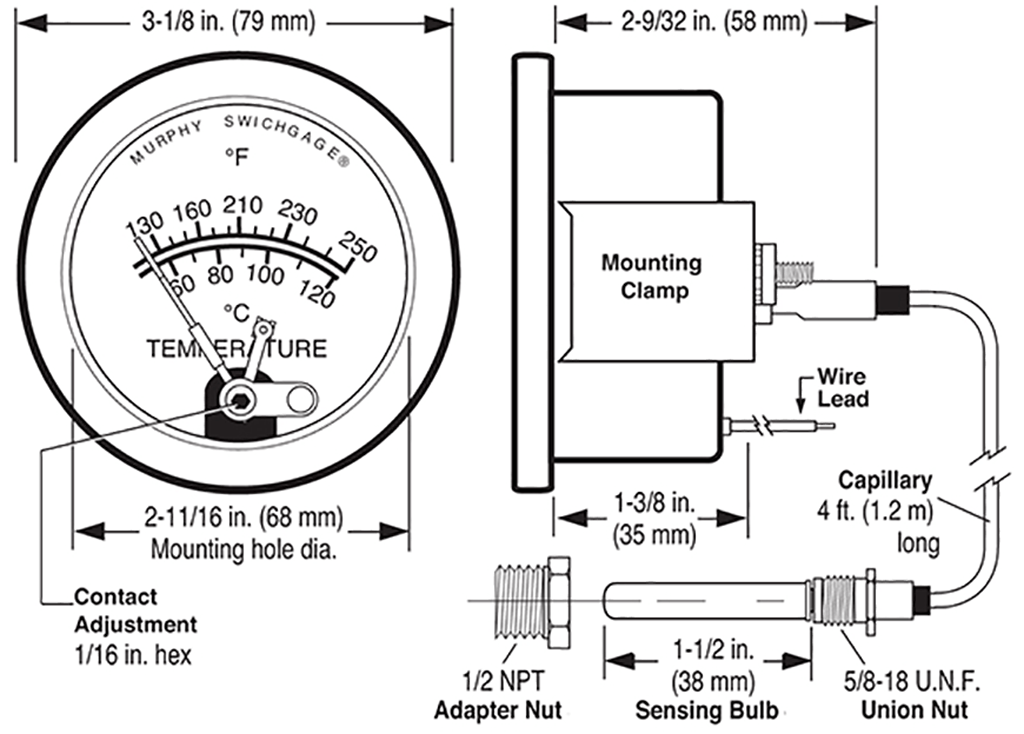 Typical with 117 Magnetic Switch

Typical with 518PH Magnetic Switch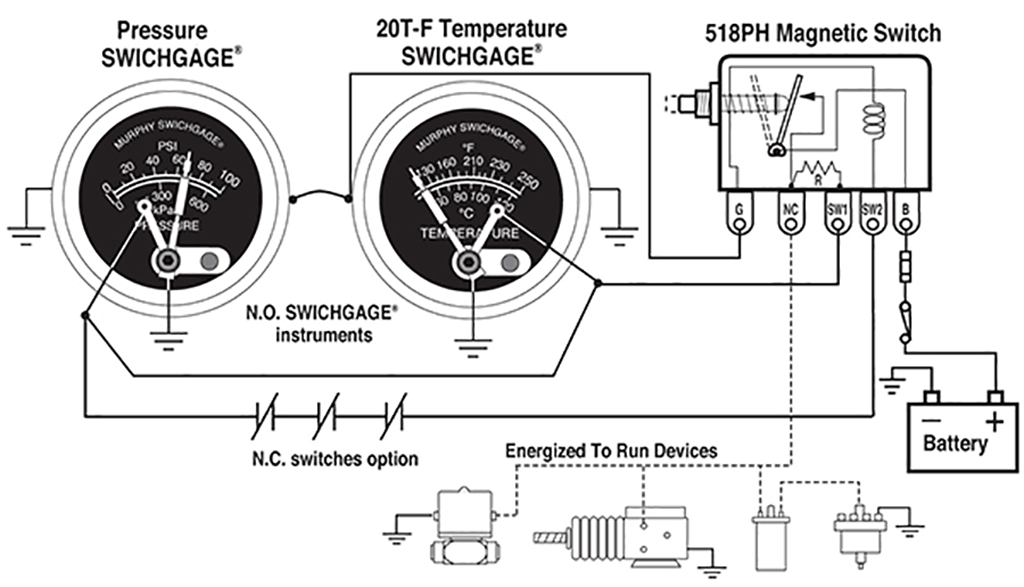 Internal Wiring