Pressure Gauges
The 45APE Series gauge instrument is a mechanical gauge for pressure indication. It includes two adjustable SPDT switches.
Combination indicating gauge with independent low and high snap-acting switches
Field-adjustable and highly visible low and high pressure trip point indicators
Dual-sector geared movement allows for full-scale indication and set point control
Panel- and surface-mount versions available
Latching control relay versions available
FW Murphy Production Controls offers support for all our products. If you are unable to find the product that you need, please call us at 918-957-1000.
Overview
Specifications
Diagrams
Literature
The 45APE Series features two adjustable SPDT switches. These snap-acting switches can be used for start and stop, to trip alarms and to shut down equipment. Ranges are available from 30 psi (207 kPa) [2.06 bar] thru 5,000 psi (34.48 MPa) [344.73 bar].
The 45APE Series utilizes a bourdon tube sensing unit with a stainless steel dual-sector geared movement. Each of the sectors drives separate pointers when pressure is applied to the bourdon tube. The indicating pointer (visible pointer) shows actual pressure reading, including below and beyond the low and high trip points. The low and high trip points are adjustable independently on the gauge front lens. The switch operator pointer (behind the dial) is calibrated to follow the indicating pointer. The low and high trip point indicators arrest the switch operator pointer. As pressure decreases or increases through the principle of lost motion, the respective snap-switch is tripped.
The 45APE Series models are widely used in applications requiring pressure indication and Form C low and high pressure switches.
Basic Models
45APE Series gauge instrument
Surface mount (square case) version
45APEF Series gauge instrument
Panel Mount (round Case) Version
Dial: White on black, dual scale, psi and kPa standard, 4-1/2 in. (114 mm) diameter
Case: Die cast aluminum, surface or panel mount
Overrange: Do not exceed 10% FS above full range
Process Connection: 1/4 NPTM thru 1000 psi; 1/2 NPTM 1,500 – 5,000 psi
Sensing Element: Bronze or 316 stainless steel bourdon tube
Gage Accuracy: Indicating pointer within switch points with hysteresis of <1%: ±2% for first and last quarters of scale; middle half of scale is ±1%. Indicating pointer above or below trip point:
45APE/45APEF Series Accuracy Outside Switch Points (accuracy above or below trip point)
PSI Range 
  Accuracy
< 100
10
100-300
4
400-1500
2
2000
12
3000-5000
8
Reading based on testing performed with switch point at mid scale which represents worst case
Pressure Relief Disc: Back of case (except EX models)
Switch Reset Deadband: Approximately 10% FS
Switch Point Accuracy: ±1.5%
Snap-Acting Switches: 2-SPDT; 2 A @ 250 VAC
Wire Connections (Surface Mount): 1/2 NPTF conduit entry with terminal block
Wire Connections (Panel Mount): Wire leads, 18 AWG (1.0 mm2) x 9 in (229 mm) long
Weight: 5 lbs 6 oz (2.4 kg) approximately
Explosion-proof models: 21 lb. (9.5 kg) approximately
Dimensions: 10 x 9 x 6 in. (254 x 229 x 152 mm) approximately
Explosion-proof models: 12 x 12 x 9 in (305 x 305 x 229 mm) approximately
CSA Certified Models:

45APE Series models with pressure range thru 5000 psig (34.4 MPa) [344 bar] are CSA approved for non-hazardous locations
Explosion-proof EX models with pressure range thru 5000 psig (34.4 MPa) [344 bar] are CSA approved for Hazardous locations Class I, Groups C & D
45APEF Series Panel Mount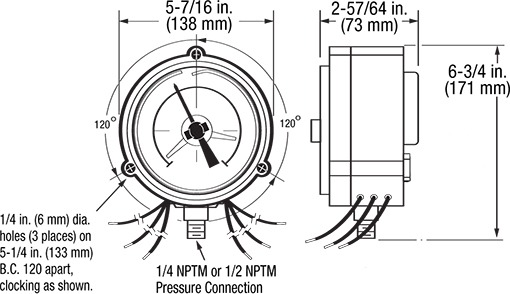 45APE Series Surface Mount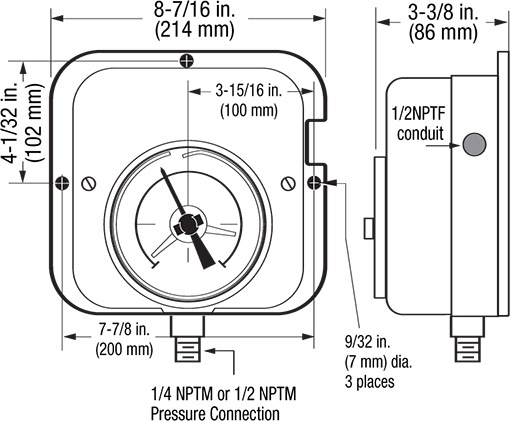 Typical Wiring Diagram