Temperature Gauges
The 4-1/2 in. (114 mm) size dial gauge is a mechanical gauge for temperature indication. It is a combination indicating gauge and critical temperature limit switch. High and low temperature limit contacts are visible.
Combination indicating gauge and critical temperature limit switches
High and low temperature limit contacts are visible and adjustable
Panel and wall mount versions available
Typical Applications: Gas compressors, heaters and coolers, water pump temperature, engine coolant temperature and process temperature
FW Murphy Production Controls offers support for all our products. If you are unable to find the product that you need, please call us at 918-957-1000.
Overview
Specifications
Diagrams
Literature
The SPL Series includes adjustable, electrical contacts that can be used for start and stop, to trip alarms and to shut down equipment.
Panel and wall-mount versions are available as well as latching control relay versions.
Ranges are available from 15° to 250° F (9° to 121° C) through 130° to 350° F (54° to 177° C).
Basic Models
SPLC Series gauge: Surface-mount version of the gauge. For this model, the gauge pointer makes with two adjustable contacts to complete a pilot-duty circuit.
SPLFC Series gauge: Panel-mounting (round case) version of the SPLC
FW Murphy offers square case configurations altered to fit round panel openings, see Dimensions.
Basic Operation
This vapor-actuated gauge features a sealed capillary tube and sensing bulb. When subjected to heat, the liquid in the sensing bulb expands to vapor creating pressure against a bourdon tube mechanism. The bourdon tube translates this vapor pressure into a mechanical gauge reading.
For models SPLC and SPLFC, the gauge pointer acts as a pressure indicator and as one switch pole, which completes a circuit when it touches the adjustable limit contacts. Contacts have self-cleaning motion to ensure electrical continuity. A toggle switch is provided on SPLC models to override the low contact for equipment start-up.
Dial: White on black, dual scale, ° F and ° C standard, 4-1/2 in. (114 mm) diameter
Case: Die-cast aluminum, surface or panel mount
Capillary: PVC-armored copper tube, 5 ft. long (1.5 m) standard – (5, 10, 15, 20, 25 or 30 ft. long options)
Sensing Bulb:

Copper bulb: 1/2 in. (13 mm) OD
Length: 7 in. (178 mm)
Minimum bulb insertion – see corresponding chart in sales bulletin
Pressure Rating: 600 psi (4.1 MPa) [41 bar]. Connection: 1/2 NPT compression fitting

Overrange: Do not exceed 10% above full range
Limit Contacts (SPLC and SPLFC): 1-SPDT, center off; pilot-duty; 2 A @ 30 V / 0.1 A @ 125 VAC. Contacts are gold-plated silver.
Dry Relay Contact (BP Models): 10 A @ 28 VDC or 10 A @ 120 VAC
Wire Connections:

Surface-mount models: 1/2 NPT conduit and terminal block
Panel mount models: Wire leads, 18 AWG (1.0 mm2) x 9 in. (229 mm) long
OS models: 1/2 NPT conduit and wire leads, 18 AWG (1.0 mm2) x 9 in. (229 mm) long

Approximate Item Weight:

8 lb. (3.6 kg)
Explosion-proof models: 22 lb. (10 kg)

Item Dimensions:

16 x 11 x 5-1/2 in. (406 x 279 x 140 mm)
Explosion-proof models: 12 x 12 x 9 in. (305 x 305 x 229 mm)
Surface Mount Models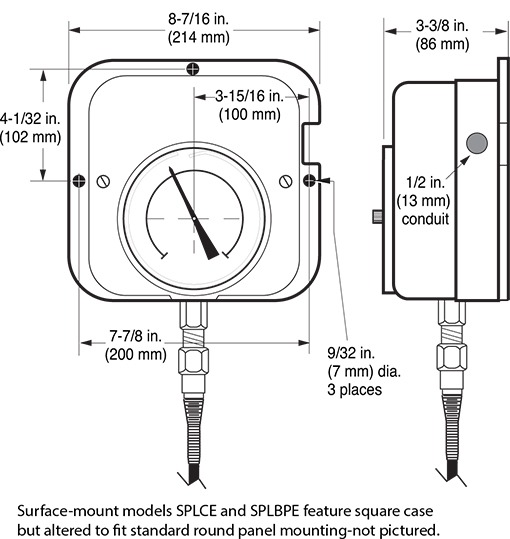 Panel Mount Models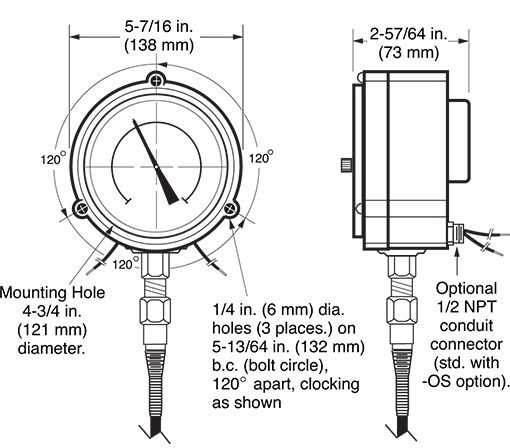 Start-up Lockout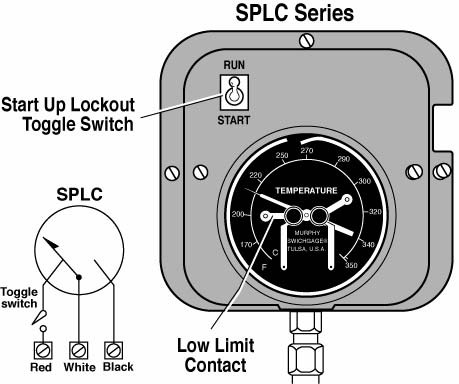 Dimensions – Sensing Bulb

Using a Thermowell