Lube Level Regulators
The LR857 Lube Level Regulator maintains the crankcase oil level of an engine, pump or compressor. Adjusted to the correct running oil level, the LR857 will replenish oil as it is used.
Eliminates under/overfill due to human error
Simple installation
Low level switch
Models to fit varied applications
Positive sealing thumb valve
FW Murphy Production Controls offers support for all our products. If you are unable to find the product that you need, please call us at 918-957-1000.
Overview
Specifications
Diagrams
Literature
The FW Murphy LR857 Lube Level Regulator is an integral, low-level switch that will alarm and/or shut down the equipment if supply oil is lost and the equipment continues to use oil.
The LR857 maintains oil level on any size engine but is recommended for small- to medium-volume applications and installations that require a three-wire, snap-action switch.
As the crankcase oil level drops, the LR857 float also drops and opens the thumb valve. This allows oil to flow from the supply tank through the LR857 and into the crankcase. When the proper level is attained in the crankcase, the LR857 float rises to cause the thumb valve to close off further oil flow.
The simple and unique thumb valve is non-clogging and provides a positive, leak-free seal. Flow rate through the 1/8 inch (3 mm) orifice is significant to allow crankcase refill through the LR857.
Inlet Connection: 5/8 in. (16 mm) I.D. hose
Outlet Connection: 3/8 NPT
Snap-switch: SPDT rating 10 A @ 125 VAC; 0.5 A @ 125 VDC; 10 A @ 30 VDC
Conduit Connection: 1/2 NPT
Case: Die cast aluminum
Lens: Polycarbonate
Float: Brass
Flow Rates (see chart on diagrams tab): Oil with 0.9 specific gravity @ 70°F (21°C)
Dimensions LR857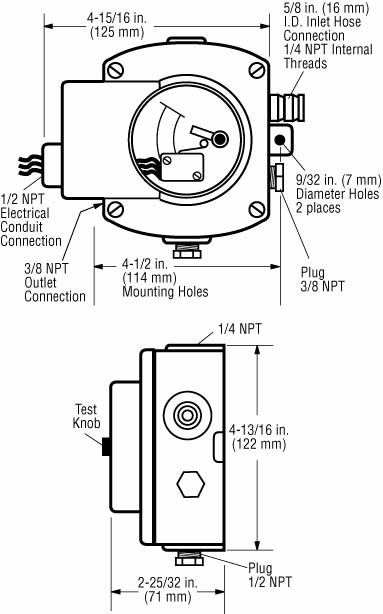 Typical Installation LR857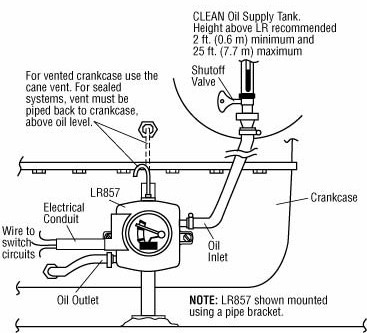 Flow Rate Graph LR857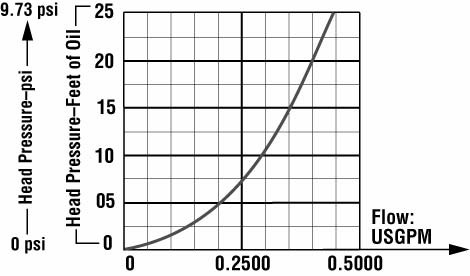 Operation LR857

Mounting Universal Flange Kit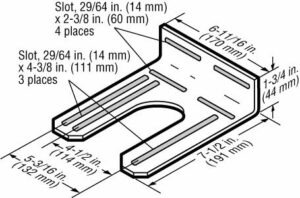 Mounting Pipe Bracket Kit