Automatic Level Control for Gas Scrubber Applications
FW Murphy's SLS is the smart choice. It includes the following items in one package to make ordering easier and more economical.
LS200, MLS-020 high-liquid level alarm/shutdown switch
DVU Series dump valve
LS200NDVOR pneumatic level control with filter, regulator and gauge
FW Murphy Production Controls offers support for all our products. If you are unable to find the product that you need, please call us at 918-957-1000.
Overview
Specifications
Diagrams
Literature
The SLS system provides for liquid control in gas scrubber applications by dumping liquids to drain and protecting compressors with a high liquid level switch. Wetted metal parts are made to survive constant use in corrosive environments.
You save money by purchasing the SLS system which includes the following:
Level Switches
Designed for harsh gas compressor scrubber applications
NOTE: Not recommended for hydrogen gas applications.
304 stainless steel float: *Specific gravity varies by model and configuration
For Separators/Scrubbers rated for up to **2000 psi (13.8 MPa) [138 bar] working pressure
Electric and pneumatic models available
Dump Valve Operator / Dump Valve
Hex union allow plug and seat replacement without piping removal
Operates on 30-70 psi (207-483 kPa) [2.07-4.83 bar] control pressure
Manual valve operator
* LS200NDVO float operation is minimum 0.63 specific gravity while the electric switch SG may be less.  Refer to product literature for full details.
**DO NOT OVERPRESSURE. The stainless-steel float may be deformed if exposed to pressure beyond rated (2000 psi). This can affect specific gravity and overall operation.
---
Scrubber Level System Tools
Scrubber Level Control System Emissions Calculator
The SLS Emissions Calculator allows you to plug in application information, such as ambient temperature, dump frequency, dump rate and supply pressure, and provides the total system emission of gas per hour.
The DVU Selection Guide selects the appropriate dump valve model for the user using a series of calculations. This calculation is obtained after the user inputs application information such as diameter of vessel, duration of dump cycle, vessel pressure and pressure at outlet of DVU.
Below are the products that make up the Scrubber Level System. Click their names and product images for more info.
Scrubber Level System (SLS)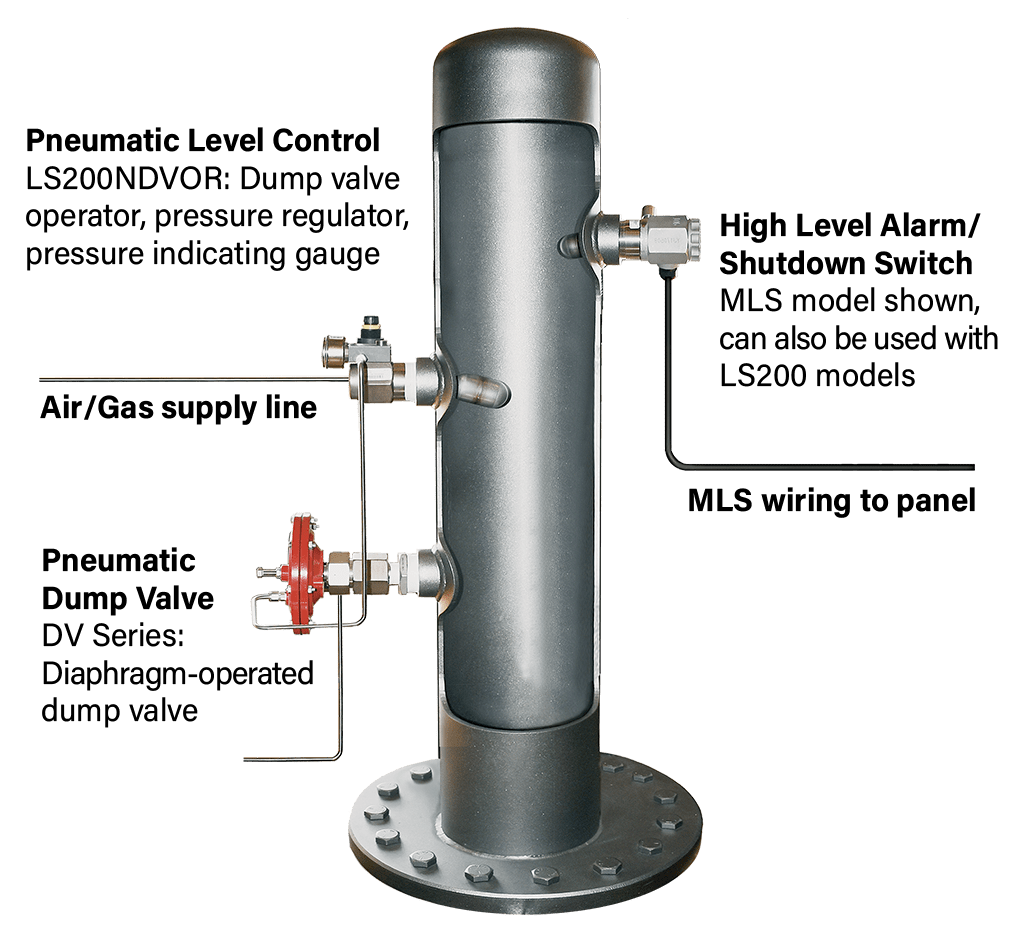 Refer to our sales bulletin for the complete list of options and accessories.